North Bay
Restaurants
Within Walking Distance to Homewood Suites
Kabuki House – 3min walk
gd2go – 3min walk
My Thai Palace – 6min walk
Toppers Pizza – 5min walk
Greco's Pizza – 5min walk
Buono Burger – 5min walk
Miyakoi Sushi – 8min walk
Twiggs – 9min walk
Raven and Republic – 9min walk
Other
Burger World
Burger World is open for breakfast, lunch, and dinner, and has a lot of different options. It is a favourite in North Bay since it is both very affordable and delicious!
1308 Algonquin Ave.
1405 Hammond St.
Cecil's Brewhouse and Kitchen
Open for Lunch and Dinner Cecil's has something for everyone. From Pasta, Pizza and Steak to Wraps, Burgers and Salads you are sure to find the perfect meal. Cecil's is also has a variety of local beers brewed in-house!
300 Wyld Street, North Bay
The Cedar Tree
Serving traditional Lebanese food the Cedar Tree is open for lunch and dinner. The restaurant is designed so that you can watch the chefs cook your meal. If you are vegetarian the Cedar Tree offers a large variety of dishes you will love!
183 Main St. East., North Bay
Churchill's Prime Rib House
One of the more expensive restaurants in North Bay, Churchill's is open for Lunch and dinner. Churchill's offers an excellent variety of delicious meals with over 5000 wines to choose from!
631 Lakeshore Drive, North Bay.
The Crown and Beaver Pub
The Crown and Beaver is open for lunch and dinner, combining British Classics with local favourites. They have a large variety of wine, beer, and spirits and on Friday and Saturday they have live music to enjoy with you meal!
786 Lakeshore Drive, North Bay
Greco's Pizza
A predominantly Italian menu, Greco's is known around town for having the best pizza but there are other great options as well!
WARNING – Long wait times!
344 Algonquin Ave, North Bay
221 Lakeshore Drive, North Bay
Moose's Cookhouse (The Moose)
Open for Lunch and Dinner the Moose is a "Log Cabin" Restaurant located downtown. It is known for its wings but has a variety of burgers, steaks, wraps, soups etc.
134 Main Street East, North Bay
The Raven and Republic
A renovated from a turn-of-the-20th-century home the Raven is an inviting Pub and Restaurant. The Raven is open for lunch and dinner, it has a smaller menu but every option is a treat! They also have a different theme every evening.
246 First Ave. West, North Bay
Station Tap House and Steak Co.
The Station offers a large menu of different yet delicious meals. Depending on what you choose this restaurant can vary from affordable to expensive.
603 McIntyre Street East
Twiggs Coffee Roasters
Open all day Twiggs is much more than just a coffee place. It offers a variety of basic breakfast, lunch and dinner options (many of them fairly healthy). They also have a wide variety of different drinks and desserts.
501 McKeown Ave., North Bay
473 Fraser St., North Bay
Boston Pizza
50 Josephine St., North Bay
Casey's
20 Maplewood Ave., North Bay
East Side Mario's
285 Lakeshore Dr., North Bay
Montana's
1899 Algonquin Ave., North Bay
Shoeless Joe's
850 McKeown Ave., North Bay
St. Louis Bar and Grill
850 McKeown Ave., North Bay
Swiss Chalet
1899 Algonquin Ave., North Bay
Things to Do
Outdoors
Nipissing University/Canadore College Trails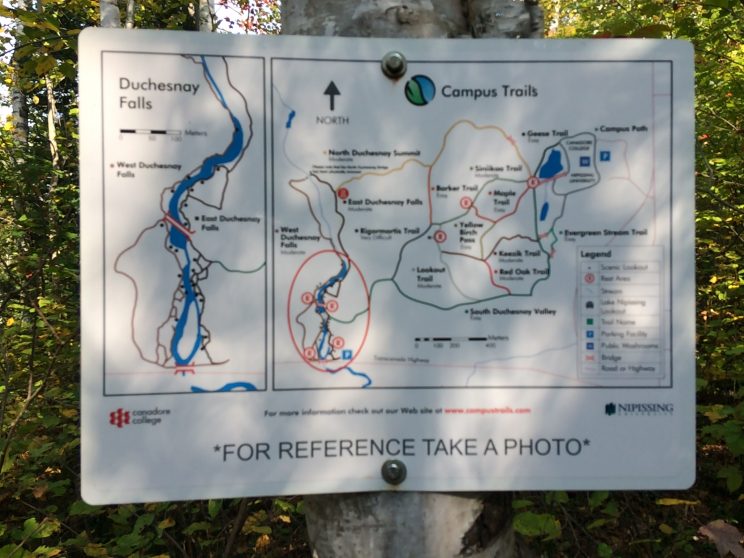 There is a network of trails behind Nipissing University/ Canadore College. Following the path around the pond, you will come across the map of the trail network. Some trails are easier than others, but interesting destinations would be going to the lookout to see over Nipissing Lake, and/or Duchesnay Falls. Depending on what trail you take, it takes about 35 minutes to an hour to get to the Falls. Some of the trails may be quite wet if it has rained recently. Also, make sure to wear proper walking shoes, as there are some challenging sections of the  trails.
*Visitor Parking is available at the school across from the Harris Learning Library
Waterfront
Take a walk along the beautiful North Bay waterfront. Take in the scenes of the water and beach or walk along the dock systems. If you are hungry stop in at the Old Chief Commanda or The Boat for bite to eat!
*There are parking lots along the waterfront; the main parking lot is beside the docks.
Indoors
Peruse the unique stores and galleries on main street, such as:
Allison The Bookman, 342 Main St. E
Waxman Records, 106 Main St. W.
The FARM – Fashion Art Retail, 154 Main St. W.
Art on Main, 171 Main St. W.
* Paid Parking is available along Main Street.
Discovery North Bay Museum
100  Ferguson Street, North Bay
*There is two hour free parking on weekdays available in the municipal lot adjacent to the museum. It is free on weekends.